What Is Onsite SEO and Offsite SEO?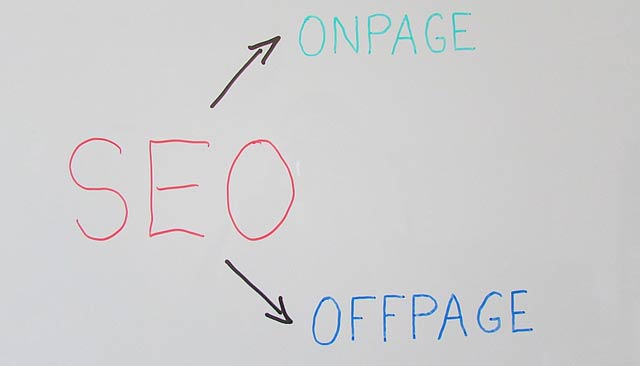 Search engine optimization, also known as SEO, is a type of marketing campaign that can promote the ranking of your website on a search engine results page. A search engine optimization strategy is classified as either onsite SEO or offsite SEO, and both of these are crucial to the success of the campaign; however, they are highly different regarding their approach and application. To understand the core difference between the two styles, you need to know what SEO is and how it operates. This article will discuss SEO and examine the differences between onsite and offsite search engine optimization techniques.
What Is Search Engine Optimization?
In its most simplistic form, search engine optimization is the practice of increasing the quality of traffic and the quantity of traffic directed to your website via organic search engine results. Using specific SEO techniques, the website increases in the search engine page rankings and the higher ranking pages receive more conversions.
Onsite search engine optimization uses techniques to improve the site by looking at the website itself. To optimize a page with onsite SEO, you will be optimizing different parts of what website and change the site to become more "SEO-friendly". Below are some are the most common factors that can be altered to improve a site's rankings on search engines:
1. Title Tags
Targeted keywords are important when optimizing a website, and placing the keywords in the title tag of your page can be one of the best practices for onsite SEO. A title tag refers to the HTML elements specifying the title of the webpage. This is important to change because the title tags are the items displayed on search engine results pages as the headline for users after they search a specific topic. An effective title tag should be concise and accurate pointing out the page's content in a short sentence.
The title tag is important because it helps search engines determine what the page is about, as well as being the first impression for potential visitors. Title tags are used in three different key areas: the search engine results pages, the web browser, and the different social network platforms.
2. Headings
Headings are typically the larger words on the webpage, and this is why search engines give these words more attention than other content on the page. It may be a good idea to create content to your target keywords are included in the headings on the page; however, it needs to reflect the content and not seem confusing or illegible. Headings are available in several sizes, but the largest sizes are the ones identified by search engines.
3. URL Structure
It is recommended that you place your targeted keywords into the URL if possible, but do not change all existing URLs so they have keywords in them. Unless you plan on redirecting existing URLs to the new ones, this is something that you should avoid as many inexperienced people land up making the page inaccessible. Always consult a professional before opting for this change.
4. Alt Text For Images
All content management systems will advise adding "alt text" to website images. Alt text is a form of text that is not visible to site visitors but can be used by screen reader software to help blind internet users to identify the image content. Search engines view images in a similar manner, so inserting relevant alt text can help search engines understand the page content more easily.
5. Page Load Speed
Google aims to help users find what they are looking for as quickly as possible; therefore, optimizing the page to load quickly helps the site rank higher in search engines results.
6. Internal Links
While internal linking may seem irrelevant, linking to other posts on your site can be useful to visitors and the search engines. It improves the level of metadata and can help you gain more readers.
Unlike onsite SEO, offsite SEO focuses on increasing the reputation of your website and improving the authority of the domain. It does this by gaining links from other authority sites, also known as backlinks. A good analogy for this is the idea of a bathtub filled with rubber ducks. If you have a bathtub filled with rubber ducks (the ducks representing your pages), and you begin filling the bath with water, the ducks will rise to the surface. A website that has many external links will float to the top and gain authority without too much effort because they achieve a high "domain authority" score when compared to other sites or other baths filled with less water.
Some of the best methods available to build links for your website are by creating good content that people want to share, sending emails to influencers in your industry who will link to you, sharing content on social media platforms, and writing guest blog posts on sites related to your own.
As can be seen, onsite SEO deals with the structure of the webpage and offsite SEO deals with the promotion of the page. Both are important, but when used together you can increase your reputation online.
Get traffic to your website. Consult internet marketing experts New Orleans to achieve desired ranking of your website.
Read in our next section: How To Dominate Organic SEO?